Notes for the Month!
With the start of hurricane season, now is a good time to think about your preparations for deployment. Make sure your gear is ready and any other necessary arrangements have been made!
Please make sure to use the 'off-call' function of D4H. To change your status, login to D4H and click on the '+Add off-call' button in the upper right corner. Enter your details and you're good to go!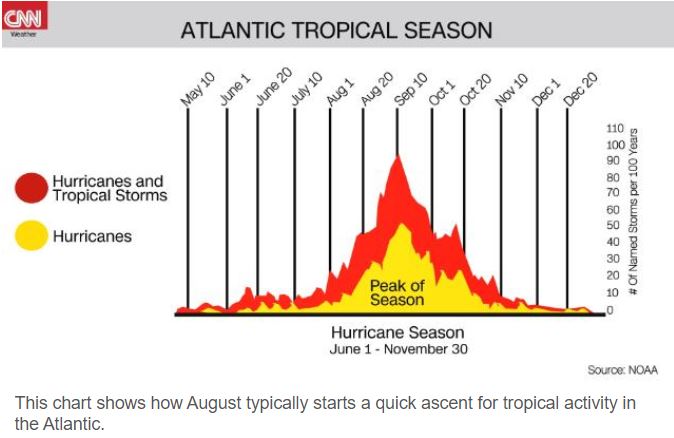 It's hurricane season! Only a few days ago, NOAA released its updated hurricane predictions. It now includes a 70% chance for 14-21 named storms with 6-11 becoming hurricanes and between 2 and 5 of becoming major hurricanes. Early expectations were that El Nino would moderate the Atlantic storm season, but the unusually war water at the surface of the Atlantic Ocean appears to be mitigating that effect.
The Saffir Simpson category scale for hurricanes: button in the upper right corner. Enter your details and you're good to go!
Wind speed is what creates the 'category' for the storms and while wind is destructive, water is the greatest danger from a hurricane. The category of a storm doesn't predict how much rain will fall.

Connect Rocket Testing
Connect Rocket is what the Task Force uses for communication with our members.
Testing of the system is scheduled monthly – this is done to improve our response times.
During the test held on 8/3/2023 nearly 72% of our members responded within ten minutes.
For the Newaygo Dam EOC Exercise, we had a significant improvement in that response – all the way to 80.1% within that ten minute window!
Thank you everyone!

Wildfires – More Likely
We've all watched in horror as complete devastation overtakes the town of Lahaina on the Island of Maui. The number of dead and missing is overwhelming. FEMA has nearly 20 human remains specialist canine teams on the ground, but it will take them many days to complete the search of the entire area.
Right now, the Pacific Northwest and Western Canada are facing the possibility of wildfires. Washington, Oregon and Idaho are currently facing and "extreme" level of heat risk with temperatures expected to be 20 degrees above normal.
Over 2500 firefighters are already battling seven large wildfires across Washington and Oregon. Canada is experiencing its worst fire season on record.
As disaster responders, we need to be prepared to respond for any type of disaster and consider how we pack our gear – what we have handy so that we can hit the ground running.